Njala University's Appointment & Promotions Committee Appoints Five Professors
By: Alhaji Umaru Gbow
Credit: Public Relations Unit, Njala University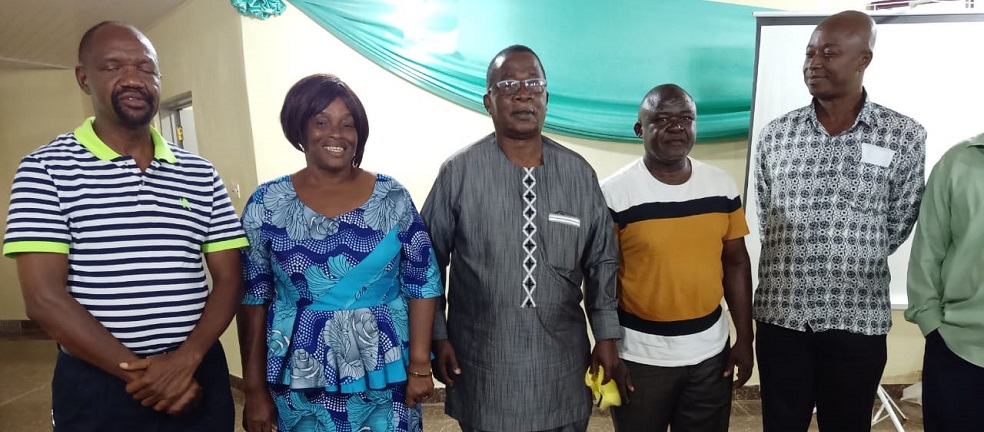 Njala University, 27th October 2021- A Special Appointments and Promotions Committee Meeting chaired by the Acting Vice-Chancellor and Principal, Professor Andrew Baimba has on Thursday 21st October 2021 endorsed the report of various external assessors both within and across the sub-region and conferred Professorial degrees on five outstanding academics at Njala University. 
Professor Aiah Randolph Lebbie current head of the Biological Sciences at the School of Environmental Sciences, Njala Campus was promoted to Full Professor.
He is the Principal Investigator for the Ecological Surveillance and Capacity building for Viral Hemorrhagic Fever Viruses Project in Sierra Leone and he is also accredited with the discovery of a near-extinct plant species which was named after him; Lebbiea Grandiflora. It is described as the first new African genus of Podostemaceae published for 30 years.
He joined Njala University as an RTA in October 1989 did his Ph.D. in forestry with a specialization in forests and wildlife ecology from the University of Wisconsin-Madison USA and was appointed Associate Professor in September 2018.
Professor Adyln Omojowo Johnson the current and only female Dean of the School of Education was also promoted to full Professor. She joined Njala University as a Lecturer One in 2009 and rose through the ranks as Senior Lecturer, Ph.D., and Associate Professor in 2018.
She is accredited with several publications including the development of Educational Policies in Post-Independent Sierra Leone and several others.
Professor Adyln Johnson is Chairman of the Njala University Affiliation Committee and a strategic member for the review of the Education Sector Plan 2014-2018 Mid-term Review.
Dr. Phillip Kanu, Principal, Milton Margai Technical University and Dr. Saidu Charley of the Institute of Language and Cultural Studies, School of Education, and Dr. Roland Suluku of the Animal Science Department, School of Agriculture, and Food Sciences were also promoted to Associate Professors.
Professor Philip Kanu was appointed Associate Senior Lecturer at the Institute of Food Technology, Nutrition and Consumer Studies, School of Agriculture and Food Sciences, Njala University on the 1st November 2012.
Professor Kanu is also a Senior Principal Lecturer of the then Milton Margai College of Education and holds a Doctorate Degree from Jiangnan University, Wuxi P.R. China and a Masters of Science in Agricultural Education from Njala University.
Professor Saidu Charley joined Njala University as a Temporary Teaching Assistant in November 1996 and was later appointed lecture II in July 2005.
Dr. Roland Suluku is the Head of the Animal Science Department, School of Agriculture and Food Sciences, Njala University, and One Health Coordinator in Sierra Leone. He recently graduated with a Doctoral Degree in the 2020/2021 Congregation ceremony after his highly acclaimed thesis on Dog Ownership and Management.
Acting Vice-Chancellor and Principal, Professor Andrew Baimba congratulated the new Professors and welcomed them to the Professorial Community.
He admonished them to behave as Professors since according to him Professors are very important in the Community and their services are continuously needed to contribute to academia and nation-building
For more enquiries, contact the Public Relations Office, Njala University on +23276336213/+23276245292/Email:akoroma1@njala.edu.sl /rssesay@njala.edu.sl