Julius Maada Wonie Bio
The Former Chancellor
Julius Maada Wonie Bio is the current Chancellor of Njala University, a Sierra Leonean politician, and the 5th and current president of Sierra Leone since April 4, 2018. He is a retired Brigadier General in the Sierra Leone Army and he was the military Head of State of Sierra Leone from January 16, 1996, to March 29, 1996, under the National Provisional Ruling Council (NPRC) military Junta government.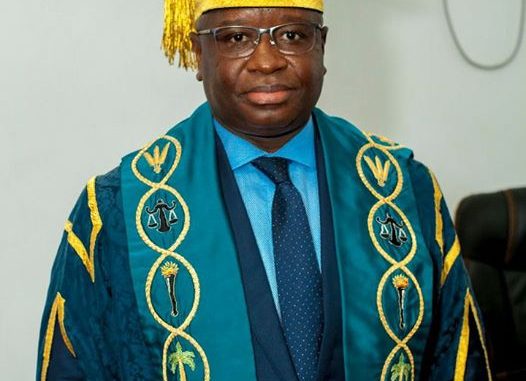 Education
Holds( A Cadet Graduate from Sierra Prestigious Benguema Military Academy, Masters Degree in International Affairs from American University in Washington, DC)
Bio was the presidential candidate of the main opposition Sierra Leone People's Party. He defeated Samura Kamara of the ruling All People's Congress in the runoff vote of the 2018 Sierra Leone presidential election with 51.8% of the votes to Kamara as 48.2%. International and local observers declared the election free, fair and credible.
Bio succeeded Ernest Bai Koroma as president, who was constitutionally ineligible to run for the presidency has served the maximum two five-year terms. In his first month in office as president, Bio has become the first Sierra Leonean president to introduced free education through an executive action for primary and secondary school students in public schools throughout Sierra Leone starting the next school year in the fall of 2018.
Bio was the SLPP presidential candidate in the 2012 presidential election, but he received 37% of the votes as he was defeated by the incumbent President Ernest Bai Koroma who won 58% of the votes.
As the deputy military Head of State, Bio leads a military coup in 1996 that ousted his boss, the Military Head of State, Captain Valentine Strasser of the National Provisional Ruling Council military government. Bio promised to return Sierra Leone back to a democratically elected civilian government; and he indeed kept his promise when he handed power to Ahmad Tejan Kabbah of the Sierra Leone People's Party, following Kabbah"s victory in the 1996 Sierra Leone presidential election.
Upon retiring from the military in 1996, Bio moved to the United States where he was granted political asylum by the United States Government, and he did not return to Sierra Leone until 2005 when then Sierra Leone"s president Ahmad Tejan Kabbah guaranteed his safety and security.
Bio is the first democratically elected Sierra Leonean president born in the postcolonial independent nation of Sierra Leone. Bio is also the second Sierra Leonean president to have previously served in the Sierra Leone military, after Joseph Saidu Momoh.