Njala University concludes celebration of INSLACS Week
Credit: Public Relations Assistant, Njala University ( Ayuba Koroma)
The Institute of Languages and Cultural Studies has on Thursday, 27th April 2023 concluded its four-day celebration dubbed INSLACS week at the Great Hall of Towama Location, Bo Campus, with the theme "A Unified Sierra Leone."
The celebration featured student participation in debates, essay, and poetry competitions, stand-up comedy, musical performances, drama, and cultural performances.
The Director of INSLACS, Mr. Claude A. Dimoh, justified the theme in his welcome address as a call to all Sierra Leoneans to be patriotic and hold the country dear, noting that the dignity we enjoy is a result of the unity the citizens continue to uphold.
"We at Njala University and INSLACS, in particular, are craving national cohesion and cohesiveness. On this note, our groundbreaking event is a true reflection and exhibition of the cultural milieu of Sierra Leone and our bilateral relationships," Director further stated.
Mr. Claude Dimoh emphasised the significance of the event, stating that it aims to teach and promote Sierra Leone's cultural heritage while also testing and exploring the students' creativity and intellectual ability.
Director Dimoh requested assistance from the supervising ministry, the Government of Sierra Leone, the US Embassy, the British High Commission, the People's Republic of China Embassy, well-meaning Sierra Leoneans, development partners, and alumni to address the Institute's challenges in providing professional training for staff, teaching and learning materials, and infrastructure including classrooms, laboratories, and equipment.
Speaking at the event, Professor Bashiru Mohamed Koroma, Vice-Chancellor and Principal of Njala University, assured INSLACS staff of the Administration's commitment to their goals and aspirations for putting high-quality education into practice. He promised that his dynamic leadership would always be ready, willing, and able to transform the University with speed, accuracy, and inclusion.
The Vice-Chancellor and Principal listed four complementary values, including education as essential to national growth and development, cultural diversity and relativism in education, education as a key to national cohesion, and transforming knowledge into practice, that would enable the growth and development of education in Sierra Leone.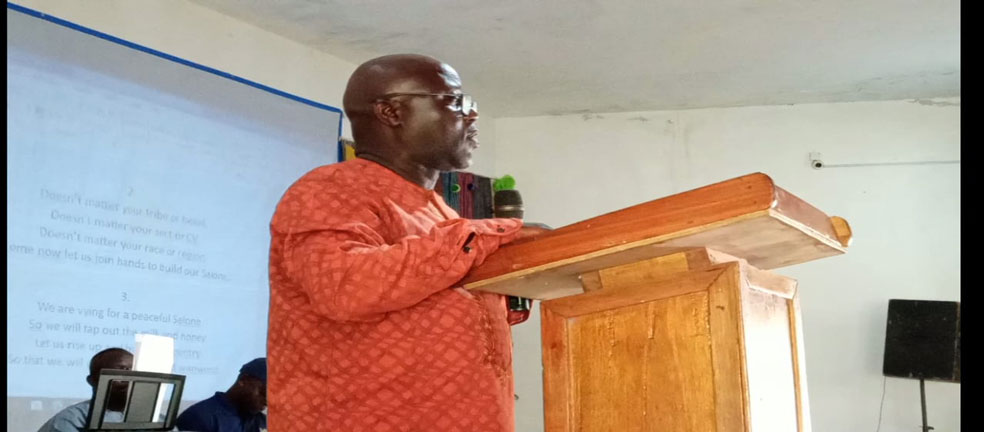 Professor Bashiru Koroma complimented INSLACS for showcasing the power of the human intellect and stated that knowledge and skills acquired by individuals, rather than the number of years spent in a classroom, determine growth, development, and the ability to reduce poverty. He urged everyone to switch their call to action from "Education for All" to "Learning for All."
"The purpose of cultural diversity is to help dispel negative stereotypes and personal biases about different groups and it helps us recognise and respect 'ways of being' that are not necessarily our own. So that as we interact with others, we can build bridges to trust, respect, and understand across cultures," VC&P said.
He went on to say that education, through the transmission of knowledge and the forming of attitudes towards diversity and change, is a crucial tool in the promotion of social cohesion, adding that having transformative knowledge entails using an integrative strategy and treating the systems that sustain it.