Njala Campus Welcomes Hundreds of Matriculants into its Fold
Credit: Public Relations Unit, Njala University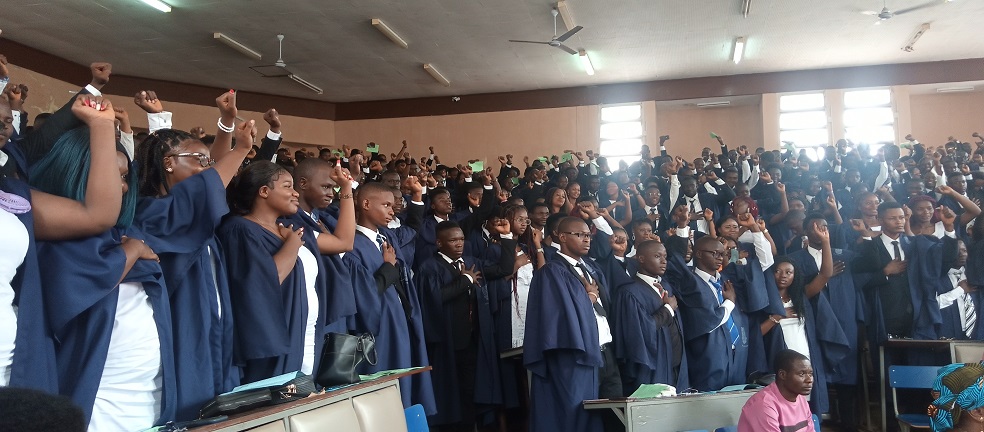 Njala Campus Welcomes Hundreds of Matriculants into its Fold
The Njala University Administration has on the 28th February 2022 welcomed hundreds of Undergraduate students for various programmes across its four (4) Schools into its fold for the 2021/2022 Academic year as part of a long-standing tradition in the University.
The ceremony was held under the Grand Chief Patronage of the Acting Vice-Chancellor and Principal, Professor Andrew Baimba.
The Acting Vice-Chancellor and Principal while delivering his keynote address gave a brief historical background to the establishment of Njala University and cataloged the institution's numerous contributions to the training of professionals in various fields of endeavors since its establishment some fifty-seven years ago as a rural public university.
Despite the challenges confronting the institution, he assured the matriculants and their parents that his administration is poised to change the trajectory with regards delivering efficient and effective services to students and outlined efforts already taken by Government and his Administration to improve on the accommodation and other basic services across its campuses.
He reassured parents that their wards are in very capable hands as they start their academic journey, noting that he has a very resilient and dedicated staff that are committed to producing the best for nation building and encouraged the matriculants to use their newfound freedom responsibly to achieve their goals.
Deputy Vice-Chancellor of Njala Campus, Professor Bashiru Mohamed Koroma welcomed the matriculants and urged them ''to be there selves and no one else.'' He warned them to stay away from illegal groups on campus and congratulated them for choosing Njala University, noting it was wise to have made such a choice.
University Registrar, Dr. Muneer Jalloh before certifying the matriculants gave the significance of the ceremony which according to him was to bound would-be students with the rules, regulations and statutes of the University before they are subsequently admitted into the University. He later certified and presented the matriculants to the Acting Vice-Chancellor and Principal who admitted them after they had successfully subscribed to the oath.
The ceremonies are expected to continue at Bo Campus for Towama and Kowama locations on Thursday 3rd March 2022 and for all Postgraduate students at Njala Campus on the 5th March 2022.
For further enquiries, contact the Public Relations Office at rssesay@njala.edu.sl or on phone at +23276336213/030317197.