Mallam O. Bags Sierra Leone's Highest National Award
By Alhaji Umaru Gbow
Njala University, 29th April, 2021- Professor Osman Alimamy Sankoh (Mallam O.) has been honored alongside eighty-seven (87) other Sierra Leoneans, three Heads of States and other distinguished diplomats in the public and private sector with various national awards by President Bio to mark the Country's 60th Anniversary celebrations.
Mallam O. was honored by President Rtd. Brigadier Dr. Julius Maada Bio with the Order of the Rokel (COR) the country's highest and most prestigious decoration awarded to recognize Sierra Leoneans who have distinguished themselves by making valuable contributions to the country in areas of public service, arts and sciences, and philanthropy.
The Astute Professor who is proudly an alumnus of Njala University had immensely contributed to his country's development both from within and abroad in the areas of academia, health, research, and as a strategic adviser to the country's national response program on COVID-19.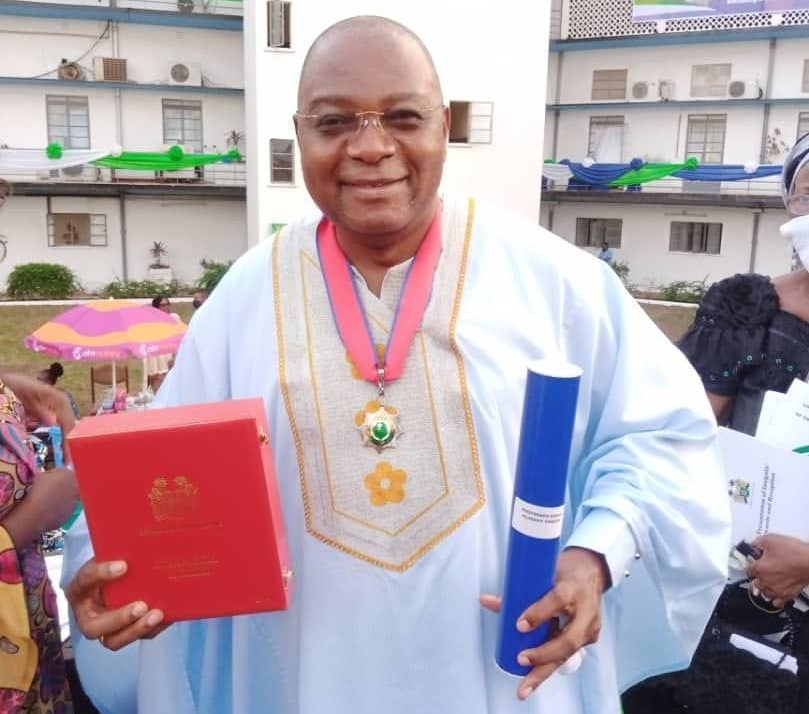 Professor Sankoh is the country's Statistician-General since 2018 and was appointed to the position after he briefly returned home from Ghana where he had served as Executive Director of the International Health research organization –INDEPTH Network.
His leadership at Statistics Sierra Leone has witnessed a positive transformation with his WINNER vision and Bongology mantra largely driven by Fairness, Integrity, Accountability, and Transparency Statistics Sierra Leone has gained high credibility and acceptance locally and internationally.
A US$ 30 Million grant from the World Bank for a five-year period effective 2020 has put the institution on a solid footing to implement key national statistical activities.
Professor Sankoh is on record to have been elected as the only African and First Sierra Leonean to serve as the Rapporteur of the Statistical Commission's Bureau of the United Nations. He was elected at the 51st session of the Un Statistical Commission in March 2020 and also re-elected for a second time in March this year.
His demonstrated capacity in institutional building and transformation led to his appointment a year ago as the Acting Vice-Chancellor and Principal of Njala University. The University has benefitted immensely in the past year with his visionary leadership.
Professor Sankoh is also a member of the Scientific and Technical Advisory Committee on Emergencies (STAGE) which provides technical advice to the Presidency on the fight against the Coronavirus pandemic in the country.
Mallam O. had also served 20 countries in Africa, Asia, and the Pacific and had dealt with many international researchers, donors, and partners including the World Bank and the Gates Foundation before returning home in 2018.
The Professor has more than 120 publications to his credit in internationally recognized journals across the world.
Professor Sankoh holds a B.Sc.Ed. (Mathematics) from Njala University College, the University of Sierra Leone, and DSc in Statistics from the Technical University of Dortmund in Germany.
Mallam O. is also a proud recipient of the 100 Most Outstanding Sierra Leoneans and 25 Most Outstanding Public Leadership awards by the African Consulting Group 2020's National Leadership Awards, the 2019 and 2020 Diaspora Focus National Development Awards.
Earlier in 2017, Professor Sankoh was awarded by the National Organisation of Sierra Leoneans in North America NOSLINA with the National Community Leadership Award for his Superior and Distinguished Service in Building Community and Enhancing Interconnectedness Among Sierra Leoneans Throughout North America in Wholesome Meaningful Ways.
For more enquiries, contact the Public Relations Office, Njala University on +23276336213/+23276245292/Email:akoroma1@njala.edu.sl /rssesay@njala.edu.sl