ASA Njala University Elects New Executive
Credit: Public Relations Unit, Njala University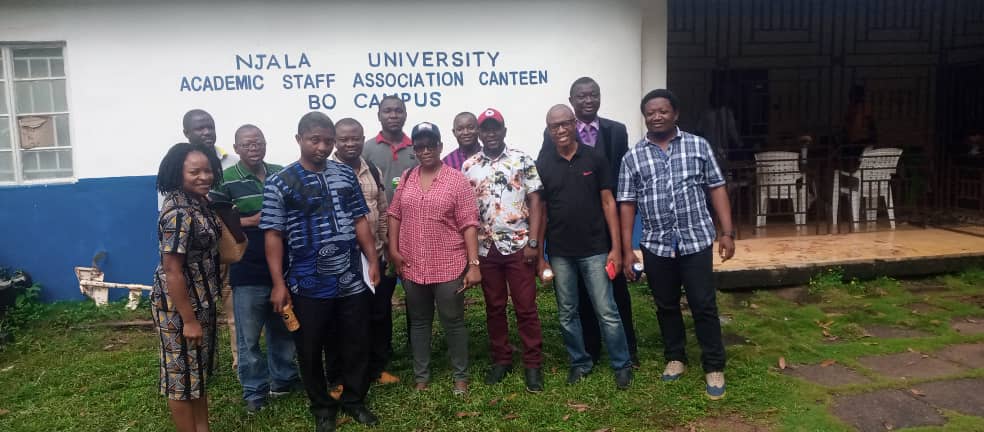 Njala University, 24th August 2022- On Saturday, August 20, 2022, the Academic Staff Association (ASA) of Njala University, a constituent body and a vital stakeholder of the University, elected a new executive to lead the Association for three (3) years.
The only team that ran for and won the presidency and other elected positions was Team Action, which was led by Dr. Brima Gegbe, a former Vice President of ASA and the Head of the Department of Mathematics and Statistics at Njala University.
Out of the 165 votes cast, Dr. Gegbe got 160 votes for President, and Mr. Aiah James Sandy, a lecturer at the Institute of Languages and Cultural Studies (INSLACS), scored 158 votes for Vice President. The chairs of the ASA campuses' working committees for the Njala campus and the Bo campus, respectively, were chosen as Drs. Mohamed Mathew Blango and Emmanuel Dauda. Twelve (12) ASA members were elected as members of the campus working committees, six (6) from each of the two (2) campuses.
Referring to ASA Njala University as the most powerful association in the academic sphere in Sierra Leone, Dr. Brima Gegbe has pledged to negotiate the Conditions of Service of his members, engage on matters pertaining to their welfare, build an Exit Strategy for their retiring colleagues to access their Ex-gratia, promote the culture of best organisational practises, moral rectitude and societal uprightness, create the environment for colleagues to acquire the requisite skills to win fundable research and write publishable papers in reputable journals, and pursue high-profile development projects.
"To prove efficient, we must come up with new ways of approaching our challenges; ways that can increase our capacity to address multiple challenges at the same time. ASA-NU is by this year making some solid 25 years of uninterrupted existence as a Credible Elite Association. As there is so much we can be proud of as bonafide members of this noble Association. If we must be honest with ourselves, it is in fact solving these other issues that we need to add the desired value to our Association," Dr. Brima Gegbe said in his manifesto.
©️ Public Relations Unit, Njala University