Njala University Administration renames Faculty Building after Prof. John Abu Kamara
Credit: Public Relations Assistant, Njala University ( Ayuba Koroma)
The Njala University Administration has on Thursday, 31st May 2023, renamed the Njala Campus Faculty Building in honour of Professor John Abu Kamara, a former Principal of the then Njala University College (NUC).
In his welcome address, Professor Alieu Mohamed Bah, the Deputy Vice-Chancellor for Njala Campus, described the occasion as a celebration of Professor John Abu Kamara's commitment to duty and hard work, whose contributions to the success of Njala University College and Njala Campus in particular continue to be impressive.
Professor Alieu M. Bah mentioned how he learned a lot from meeting Professor Kamara for the first time at his house, and he added that the ceremony will serve as motivation for top administrators by showing them that if they put in the effort, they will be recognised.
Professor Mohamed Syed Fofanah, Deputy Vice-Chancellor for Bo Campus and Pro-Vice-Chancellor of Njala University, stated that the purpose of the ceremony was to honour Professor Kamara, who made a significant contribution to Njala University while serving as Principal of Njala University College.
"The celebration is especially cherished because it gives us a chance to consider the accomplishments of our retired academic grandfathers," according to Professor Mohamed Syed Fofanah, who noted that Prof. Kamara is an example of discipline, compassion, and consistency.
The Vice-Chancellor and Principal, Professor Bashiru Mohamed Koroma, remembered the learned Professor of Veterinary Medicine as a highly esteemed scholar and administrator. He recalled that Professor Abu Kamara, as Head of the Animal Science Department, was responsible for enabling the Department to be a producer of eggs for sale across the nation. "A glory I have maintained since assuming office," VC&P mentioned.
Professor Bahiru Mohamed Koroma recalled some of Professor Kamara's noteworthy accomplishments as Principal, including the establishment of the hospitality vote for Principals, Registrars, and Finance Directors as a means of saving the University College. Professor Kamara also placed a lot of emphasis on the Animal Science Department, making APD the centre of egg production and sales in Sierra Leone.
"This is the reason why my Administration has decided to gainfully revitalise this goodwill in our tenure. As we speak, if you visit the Animal Science Department, if nothing is there, but poultry is thriving even today," Professor Koroma assured.
According to him, Professor Kamara had the vision to build Njala to the admiration of Sierra Leoneans and beyond during his ten years as principal. He also said that during that time, he used his connections to find partners and donors who would give the college the funds it needed.
"With his prudent skills, he managed to save significant amount of money in separate accounts, which his successor, Dr. E.T. Bangura, utilised to construct the Faculty Building and the Auditorium, which we are renaming today. As a result, making him an example to follow is wise," asserted Professor Koroma.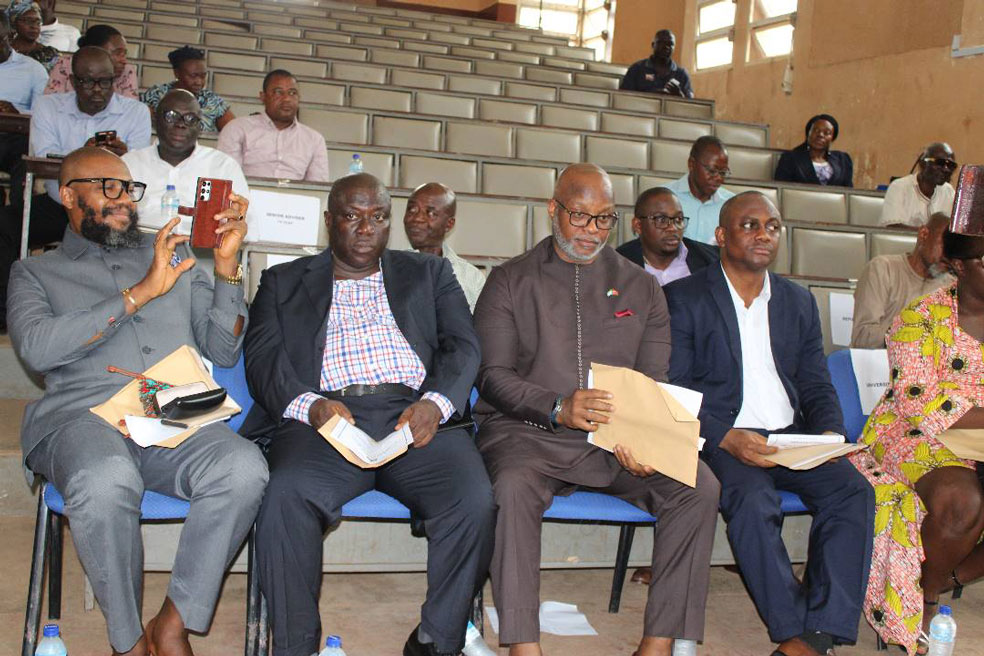 The citation for the renaming of the Faculty Building reads:
Today is quite a remarkable day in the history of Njala University as we recognise and honour one of the architects of this edifice which we have referred to as the Faculty Building for the past 32 years. Officially opened in 1991, this magnificent building has stood the test of times as one of the iconic buildings on campus that resisted the brutal attack of the eleven-year rebel war. This building stood as a giant in the midst of one of the most destructive wars in living memory, and many generations of students have used and sometimes misused it.
Today's occasion marks an important milestone in the history of this University as the Administration after thoughtful consideration, and with the approval of the University Court, at its meeting on 23rd March 2022 unanimously endorsed the proposal of administration to name this building after one of the Principals of the then Njala University College whose footprints are still visible around our campus.
In 1976, Professor John Abu Kamara was appointed Principal of Njala University College, a position he held with distinction for ten remarkable years. Professor John A. Kamara left an indelible impact on Njala University during his tenure and even after his retirement. He served as the catalyst for expanding and beautifying Njala University. It was during his tenure that work on the construction of the Faculty Building fully took off.
Professor Saidu Challay, the University's Public Orator, mentioned that Professor Kamara's legacy will be having an enduring significance for all who walk around our campus, adding that his name will matter here because names matter a great deal according to our understanding of history, and our understanding of history, he went on, also matters to how we understand ourselves and our community.
Dr. John Kamara accepted the award on his father's behalf and thanked the University Administration for keeping in mind all of the sacrifices his father made for the institution. He conveyed his father's his sincere gratitude for the honour. Dr. Kamara reassured the Administration of the University that their family will continue to support the growth of Njala University.